The Petty Offense Doctrine: Why You Aren't Entitled To A Jury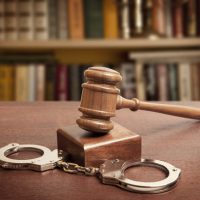 The Constitution guarantees that anyone who is accused of a crime has a right to a trial by jury. However, that right is routinely denied to individuals who are accused of "petty" offenses. Of course, in the interests of judicial economy, we could not prosecute every crime that occurred. In most cases, defendants plead guilty, accept a minor sentence, and move on with their lives. There's only one problem with that. The conviction will haunt them.
Under the petty offense doctrine, a right to a trial by jury is only guaranteed if the sentence is longer than 6 months.
Why is this a problem? Firstly, King George's refusal to impose a jury system was one of the grievances aired by the Founding Fathers in the Declaration of Independence. Those convicted of a petty offense can be denied housing, employment, and their immigration case could be decided against them. A past conviction can be used to impeach them on the stand. So, regardless of how much time you spend in a jail cell, there are real consequences for pleading guilty to any crime.
Why do you have a right to a jury? 
The government cannot simply accuse an individual of a crime. They must prove their case to an unbiased third-party panel of individuals. The jury acts as an intermediary between the government and the accused and ensures that the government is not abusing its authority. Only in cases of "petty offenses" may the government maneuver around this requirement imposed by the Constitution. Defendants are left to plead their case in front of judges.
When don't you have a right to a jury? 
Florida has two classes of misdemeanor, first- and second-degree. The penalty for a second-degree misdemeanor is a maximum of 6 months in jail and it's the less serious of the two. However, there are certain classifications like "infractions" that fall below a misdemeanor. For example, fighting a speeding ticket. You would not have a right to a jury trial for a speeding ticket.
How are petty offenses used?
 Petty offenses are generally used to convict individuals accused of illegally crossing the border. As many as 50 can be convicted in a single day before a magistrate because they are not accused of a crime for which there is a 6 month sentence. This is on purpose. It allows the government to act more quickly when adjudicating the matter.
Florida doesn't have many petty crimes. Instead, they are prosecuted as misdemeanors and occasionally qualify for pre-trial diversion programs. These are afforded to individuals convicted of second-degree misdemeanors who want to avoid a criminal record. Instead of pleading guilty, they can complete a pre-trial diversion program. Domestic violence calls and DUI are the most likely to qualify for pretrial diversion.
Talk to a Florida Criminal Defense Attorney Today 
Don't plead guilty to anything until you've had the agreement looked over by an attorney. Call Tallahassee criminal lawyer Luke Newman, P.A. today to schedule an appointment and we can begin preparing your defense immediately.