Tallahassee Woman Charged with Battery for Throwing Drink at Elected Official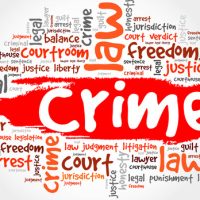 A Tallahassee woman was charged with battery on an elected official after recognizing Matt Gaetz at a winery and throwing her drink at him. According to the report, the drink struck Gaetz in his shoulder and then struck another man who was near Gaetz at the time of the drink-throwing incident. While neither man was injured in the assault, Gaetz said that he wanted to press charges. It is believed that the drink throwing incident was politically motivated.
The woman has since been charged with battery on a public official and simple battery. Below, we'll take a look at the charges in more detail.
Battery on an elected official 
The crime of battery on an elected official can be found in Florida Statutes 784.081. It covers a wide array of individuals whom you can get enhanced penalties against you for battering. In this case, an elected official will kick your charges up one degree higher than they otherwise would have had you battered someone who was not covered by the statute. Simple battery is a misdemeanor offense. However, when you batter someone who is an elected official, the crime goes one degree higher into a felony. So the defendant will be charged with a felony in the third degree for throwing her drink at Matt Gaetz.
A third-degree felony is punishable by up to 5 years in state prison. She is also being charged with misdemeanor battery for hitting the second man, who is not an elected official.
The charges are lower than you would expect for this type of crime targeting an elected official. However, the woman is apparently being charged for throwing her drink at Gaetz. It struck him in the shoulder without actually injuring him. But it could have ruined his suit or otherwise cost him money to have it cleaned.
Simple battery 
Simple battery, also known as misdemeanor battery, is a crime associated with the non-consensual touching of another person or an attempt to cause bodily injury. This would include throwing a drink in someone's face or throwing your drink at an individual as a form of political protest. You cannot grab, throw your drink, or otherwise threaten an individual. The stakes are higher when that person is an elected official. In this case, the defendant was charged with simple battery for striking the non-elected official and felony battery for striking the elected official.
These are not good crimes to have on your record. While she may not be required to spend time in prison on these charges, depending on the quality of her defense, the charge will remain on her record for the foreseeable future. So fighting the charges to the extent that they can be fought is preferable to taking a guilty plea in this case.
Talk to a Tallahassee Criminal Defense Lawyer Today 
Have you committed battery on an elected official? Call Tallahassee criminal lawyer Luke Newman today to schedule an appointment and let us prepare your defense to these charges.