Former U.S. Army Veteran Sent To Federal Prison For Threatening Violence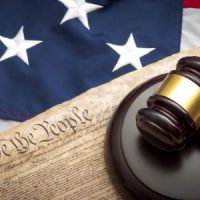 America's newest protest movement involves folks who are really into former President Donald Trump and don't believe that Joe Biden was elected legally. Now, a former U.S. Army veteran is headed to federal prison after making online threats to kidnap or injure. He will face 3.5 years behind bars for his conduct. However, this particular defendant was not involved in the January  insurrection of the Capitol. In fact, he opposed it. The former army veteran posted a call out on Facebook to stop "racist mobs" from assembling "with every caliber possible".
The threat must be actionable 
It's illegal to kill someone, even a racist. It's also illegal to threaten someone, even a racist. Further, it's illegal to issue a direct call to arms over Facebook, and that, ultimately, is what the defendant has been charged with.
In order to be charged with a crime for issuing a direct threat or a call to arms, the government must determine that the threat is credible and actionable. You can't go to prison for saying you're going to nuke your bro on The Book. Why? Because you don't have a nuke nor would it be reasonable for the government to assume you had a nuke. This can create problems for the government because the defendant can always turn around and say, "I was only joking." In fact, that's what usually happens.
The arrest 
So, the defendant heard about an organized protest that involved individuals that he considered racists or fascists. He then sends a public message on Facebook hoping to recruit others to put down the protest. The FBI eventually swarmed his apartment and beat down his door. He is arrested and charged with inciting violence or making a true and credible threat against someone.
Was he watch-listed? 
Maybe, but he wouldn't have had to be for the FBI to move in. The FBI has field offices in every state. If a family member saw his post, they could have reported it to the FBI. Alternatively, activists tend to keep in close circles. There is a strong chance that his Facebook account had been infiltrated. Further, Facebook has rules about calls to violence, so it is possible that Facebook's algorithm caught the post, reported it to the FBI, and that set off the arrest.
Right now, the federal government is interested in quelling sectarian violence between far-right and far-left activists. The issue was made worse during the Trump administration when the left-wing activists rallying around the name "Antifa" disrupted events, broke things, and injured people. A former military veteran who had far-left sympathies may have made his way onto a watch list.
Talk to a Tallahassee Criminal Defense Attorney 
Not all "threats to injure" are really threats to injure. Not every apparently offensive comment on Facebook is a reason to charge a defendant. The Tallahassee criminal attorneys at the office of Luke Newman, P.A. can help defend clients from unlawful surveillance and prosecutorial overreach. Call today to learn more.
Resource:
tallahassee.com/story/news/local/fbi/2021/10/12/daniel-baker-sentenced-federal-prison-florida-capitol-threat-case/8424086002/